CARVING OUT HISTORY AT TAPTON COURT
Traditional stone masonry skills are helping to bring Tapton Court back to its glorious best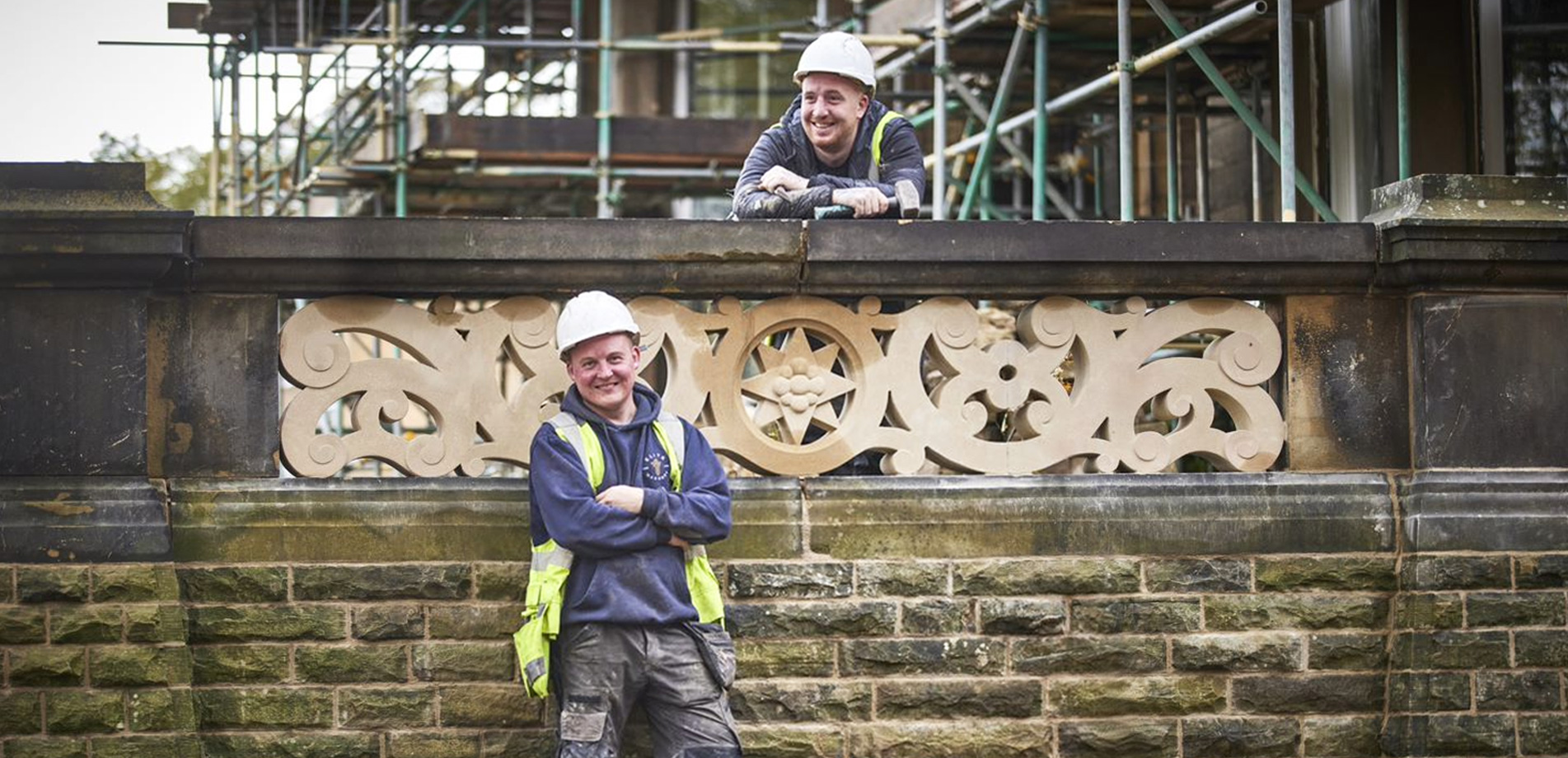 Stephen Spence and his team from Elite Masonry Contracts have remade intricate balustrades, balcony posts and new gate pillars for the Italianate style villa in the Ranmoor district of the city.
The magnificent property – once said to have hosted King Edward VII when he was Prince of Wales – is being restored and converted to create 14 grand apartments.
Stephen, said: "It is a huge honour to work on a project like this. We are replicating stone work first designed and carved back in 1868 and putting it back together like a giant 3D jigsaw.
"Tapton Court is a magnificent property with wonderful views out over the city and as well as repairing we are repointing every piece of stone in its exterior and creating a new entrance from Shore Road with a rebuilt wall and new gate pillars."
The stone comes from Witton Fell and is then hand carved in Elite's workshop before being installed back on site.
Stephen said: "The pieces for the balustrade which frames the terrace are all hand carved by our stonemasons then brought back and installed. The property has some magnificent features like the wide flight of stone steps leading to the front door, the tower with its stained-glass window and a balcony off the first floor which has amazing views.
"It is wonderful to be able to bring a piece of the city's history back into use."
And Tapton Court does have an interesting history to tell.
Originally built for steel magnate John Henry Andrew, the property was sold ten years later to Henry Steel, a self-made millionaire and friend of King Edward VII who was said to have visited and stayed at the Villa when he was Prince of Wales.
After making his fortune as a bookmaker Steel purchased a steel manufacturing businesses and after acquiring several more went on to be chairman of United Steel Companies.
Steel died in 1918 and the property was sold two years later to Albert Victor Derry.
Born in Manchester of German descent and christened Albert Kochs, he took his mother's maiden name during the second world war. Derry was a prolific industrialist, developing a Coke Oven company, a tar company, he made concrete blocks and finally set up an engineering and construction company.
He and his wife Olga lived at Tapton until 1931 when they moved to Bristol.
Albert died not long after and his wife Olga sold the Tapton Court estate to a charitable trust as a nurses' home with two new wings added in 1936.
It was later bought by the University of Sheffield to provide student accommodation with a new annexe added in the 1980's. It closed in the early 2000's and was badly damaged by fire in 2010 before being placed on the Council's 'At Risk' Register.
Steve and his team will also be working on two other listed building on the site, the original stable block and the gate house on Shore Road which will become individual properties. A separate apartment block is also being transformed and there will be three individual new build houses.
Our heritage architect Bill Bayliss said: "Tapton is a very special property, built in a grand style with a magnificent hallway and staircase which will be restored to serve the new apartments.
"The work done by skilled craftsmen, like the stone masons, is an example of the pride we take in bringing buildings like this back into use.
"The new homes we are creating here will have some wonderful original features, tall ceilings, big windows and that true sense of history.
"It is a complicated project but the end results will be magnificent."
Tapton Court is due to be launched for sale early in 2023.