CLIENT TESTIMONIALS
Read up on our client reviews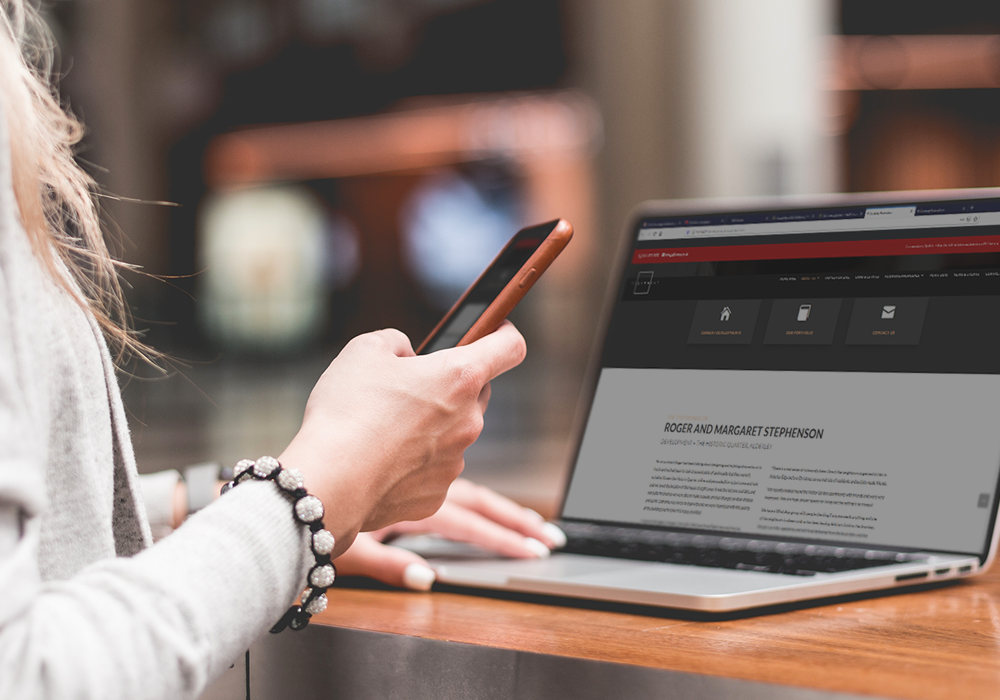 The testimonial of
Laurence and Suze Steele
development – GREEN WALK, STANDISH
Laurence: "One day Suze's parents went for a look, reminiscing about the old Standish Hospital and came back encouraging us to make an appointment. To be honest we were a bit reluctant as I was dead against buying a new build. We had looked at lots and they were always so disappointing.
"But these homes are totally different. We looked round the show home, saw the high ceilings, the light from the floor to ceiling windows and the view and we were sold within two minutes of walking in! We loved it. We are both quite tall so many homes, old and new, can feel quite enclosed and claustrophobic, but this just feels so light and airy and we absolutely love it. The view from our new home will never get old!"
Suze said: "Just exploring the grounds of the development itself is a joy with the woodland and the pond and you can walk from the door up on to the ridge behind and there are spectacular views out to the River Severn estuary with beautiful sunsets.
"Stonehouse is five minutes away for local shopping and we are also close to Stroud and Gloucester or Cheltenham – we can even get the train from Stonehouse direct to London.
"Bella has just started her education journey at Wycliffe Prep in Stonehouse and we all just feel completely at home here and very lucky."
The testimonial of
Josh Solomon and Katie Tomlinson
development – Storeton Hall
"It just seemed different from all the other developments so we went to look and absolutely loved the area around the Causeway and the setting of the properties next to the old hall and barns.
"We had looked at other new builds but they are production line properties whereas Storeton Hall offers something unique."
"The house is great, the builders have done a fantastic job to a high standard with special mention to Steve on site and the whole buying and moving process was very easy.
"We are absolutely loving living here. We are surrounded by beaches which Millie loves yet only 15 minutes from Liverpool city centre to get to work or if we want to go for a night out.
"We feel very lucky to have this as our first home of our own and looking forward to happy times here."
The testimonial of
Giuseppe Alfonso
development – Storeton Hall
"I fell in love with it straight away and as soon as I walked in the show house I told Ryan to sign me up!"
"Its seven miles in a taxi for a night out in Liverpool while Chester and Manchester are easy to get to but when you are here it's really beautiful and peaceful.
"I'd been cycling past Storeton Hall for six years so knew the location and on the spur of the moment called in when I saw the sales launch sign."
"It is really nice being part of such a historical site and my house is lovely, really light with big rooms and finished to a really high specification.
"PJ Liveseys are doing it really well with lots of open space and a real mix of properties and the whole team has been wonderful to deal with – nothing has been too much trouble.
"It is not a big development and I think that once the site is finished it will be amazing. I feel very lucky to be living here."
The testimonial of
Peter and Hannah Jones
development – Storeton Hall
"It was fate really. We had plans to extend our home but then lock-down happened. And when we saw more details of the development and what it had to offer our plans changed. We liked the fact that it will only be small and has the focus of the historic buildings.
"Because we had registered we got sent pre-launch information and really liked the look and the layout of The Epsom house type. We put our house on the market in the summer and it sold within a week."
"Our move in was delayed from November to January and our biggest stress was the prospect of having to rent for a time with three children under 10 but fortunately our buyers were equally understanding and it all worked out in the end.
"We found PJ Livesey really accommodating and Charlotte in the sales office looked after us every step of the way to help us in. She has been amazing and nothing was too much trouble."
"We are both teachers so it has been lovely to have the quiet space of the separate study, both for us and for the children to concentrate on homework.
"The children all have their own bedrooms and two en-suite bathrooms makes mornings much easier. It is a brilliant family home and we do keep stopping to pinch ourselves and say: 'Is this really ours?! We feel very lucky to have found Storeton Hall and to be living here."
"We are five minutes from good local shops yet surrounded by space and countryside with views of the North Wales hills and great dog walks right from the front door. It really does offer the best of both worlds."
The testimonial of
John and Jenny Perkins
development – Quantum House
Properties in central Manchester are all comparatively pokey, often with peculiar layouts and the extra bedrooms are small. We looked at townhouses too but they just did not work for us and we like the security of a good apartment building.
Green Walk is in a different league to the ones in the city centre. In order to replicate what we have at Quantum House you would be paying more than £1m in Manchester – that's if you could find something!
The layout is perfect as guests have their own space and we will use one of the rooms as an office. There are also two underground parking spaces and lift access.
You get so much more for your money just a couple of miles outside the centre. That, together with the quality of the building, the attractiveness of the development and the proper space it offered meant we decided almost the moment we walked in.
The PJ Livesey staff were all really helpful and nothing was too much trouble. Keith in sales and Kieran the site manager have such an obvious passion and pride in the development and the company they work for and were lovely to deal with.
We used the panel solicitors PJ Livesey recommended and it was all very straightforward despite having to sign papers and review documents remotely.
We do love having everything we need within walking distance in the city but Burton Road looks fascinating and town is only 15 minutes away if we want to visit the theatre.
The testimonial of
Helen hobbs
development – 825 Didsbury
"Following an accident at work which meant that the property of my dreams which I, along with my partner, had completely refurbished was no longer suitable I thought I would never find anywhere to replace it. I made the decision to move from the country to Didsbury and commenced to look for a property. At first I had my property to sell but having sold it I started my search and viewed several properties including other historic PJL developments.
"Whilst viewing another property I passed 825 Didsbury and drove onto site. My first experience was meeting Brittany Paten who was just about to show a purchaser round but she took my details and said she would call me back to arrange a viewing the next day.
"The next day I viewed the site taking in the houses and the apartments all of which were options but I immediately fell in love with a ground floor apartment with outdoor terrace. The apartment was still under construction but the design and quality was immediately obvious.
This was confirmed by the show apartment which was nothing short of superb.
"Having lived in apartments in the past I am very aware of the importance of the common spaces – entrance halls, corridors and outdoor space all of which are excellent and based on other PJL developments I have seen as resale properties certainly stand the test of time which is testament to the quality of build.
"The purchase process has been so smooth from the initial visit to site, selecting upgrades, exchanging contracts to completion and moving in. Throughout the process the sales team have been excellent and there for me whenever I needed them.
"I am now looking forward to my new start in my Didsbury apartment."
The testimonial of
Dr Ashok and Dr Neela Atrey
development – Quantum House, Didsbury
"We wanted the security and ease of an apartment but the trouble is most apartments are quite small. Then we found Green Walk, which is a wonderful building in a great location and has large penthouses.
We missed the first one we wanted but have bought one of the duplexes which is perfect. It suits us, it is spacious with lots of light and feels more like a house.
PJ Livesey were lovely to deal with, particularly Keith and Brittany, and all credit to them for everything they did and making the purchase run smoothly."
The testimonial of
Stuart and Lindsay Rootham
development – Green Walk, Didsbury
"We initially came to look at a two-bedroom apartment as an easy lock-up and leave. But then we saw the houses and loved them and the garden is practical for the dog so we ended up spending way more than we originally planned but absolutely love it.
"The last thing we needed was a project so it made sense to get a new build which has all the practicalities of a utility room and a garage and we have reconfigured the space to fit our lifestyle adding a dressing area and using the 6th bedroom with terrace as a garden room and another as a study."
"Despite having limited furniture and struggling to buy more during the pandemic it has worked well. I have a separate space to work and the wi-fi is very good and it is great to be able to look out and see green and trees. While all the local shops and restaurants may not be open right now we are enjoying exploring the area on foot and seeing all the great things on the doorstep.
"Green Walk is a very pretty development with the green in the centre with the mature trees and it feels very exclusive and characterful – not a big soulless estate.
"The Victorian houses on Burton Road are very handsome to look at but we did not want a 100 year old property with no parking. Green Walk offers the location plus space and convenience.
"Keith at PJ Livesey was great, keeping us informed all the way through to completion and handover.
"It wasn't our initial plan but thinking outside the box has created a whole new lifestyle for us and I believe the way we have had to adjust to the Covid-19 situation will see many more people doing the same."
The testimonial of
Roger and Margret Stephenson
development – The Historic Quarter, Alderley
"As an architect Roger had been talking about designing and building a house for us to live in and we had been to look at several plots of land nearby but they weren't suitable. I'd seen the Historic Quarter online and persuaded him to just come and look and we loved the location of the house straight away. It was the last one available and not quite finished so we were able to make a couple of small changes on door choices and paint. Catherine was lovely to deal with and we were impressed with the quality of the building and finishes PJ Livesey provided
I suppose the biggest change is the stairs! We have three flights here and the top room which has doors onto a wide terrace we use as a studio / study. It looks directly over the parkland and is a lovely creative space. We have become fascinated by the bird life and watching the new born lambs.
"And while we are in the middle of the park with 400 acres around us it is really easy to get anywhere. We are literally five minutes from Alderley station for the commute into the office and close to the airport.
"There is a real sense of community here. One of the neighbours organised drinks in Alderley Edge before Christmas so we met lots of residents and quickly made friends.
"We recently looked round the Water Garden apartments with friends and were very impressed. They are huge, proper spaces for living and the setting is so tranquil.
We have a WhatsApp group with people checking if anyone needs anything and one of the neighbours is a keen cook so has been leaving delicious food on the doorstep. We get our milk, vegetables and bird food delivered from the local dairy and the fishmonger calls weekly with fish direct from Fleetwood and we can't wait for the farm shop to open and the pub. It's like living in a little village in the middle of this gorgeous park.
"We also recently got a Miniature Schnauzer puppy, Florence, who is endless fun and training her is a lovely thing to focus on during lock-down.
"It has been a brilliant move for us on every level."
The testimonial of
Bassim Djebabri
development – Mostyn Place, Wirral
"We've had a great experience purchasing from the P J Livesey team. The entire process was clear and we were very well informed throughout the entire process.
The sales team were very friendly, honest and helpful even after sales.
Their affiliation legal teams and financial advisors were great and helped us go through the process very rapidly when compared to the typical slow selling process via the tradtional market.
The build quality was unique and of the highest quality, and yes you can get large private gardens and high ceilings with P J Livesey new builds and excellent quality interiors. I highly recommend the P J Livsey building and i wish they can build more houses near me!"
the testimonial of
Russell and Lorrainne
development – The Waterside, Ditchingham
"Joe and his colleague arrived yesterday morning to eradicate a roofing issue. They arrived early which was a credit to them after having to travel a very long distance, could you once again pass our thanks to Joe and his team for their prompt response and for allaying any fears we had going forward,
in nearly 50 years in construction i have yet to meet a nicer or more helpful roofer than Joe.
Once again many thanks"
The testimonial of
Viv Savage
Development – The Residence, Lancaster
"Our house at the time was a rural dream, a converted barn down a single track lane, huge garden and its own vegetable patch and greenhouse. But circumstances changed and I was looking for a new home and decided to buy in Lancaster close to the children's schools.
I had actually come to look at another site but drove past the sales office for The Residence and stopped to look at the conversion of Campbell House.
I was blown away by the standard of the interior finish and the character of the properties but they had all been sold. So I went back and explained to the lovely Dan that I needed three bedrooms and he pointed out the options on the plans.
Immediately I loved the layout and space of one in the main wing and put a reservation down. It may have been rash as my old property was not even on the market but it just seemed right and so it has proved.
My traditional option would have been a three bedroom house on an estate but that is so uninspiring. Here I have all the convenience of a new build together with history and character – I absolutely love it.
It has such a sense of space and light and I feel very safe here. I feel totally at home and relaxed which is strange as it is such a contrast. But looking back the huge garden and the land had become a burden and the children had to be met from the bus as it was too far to walk especially in winter.
Here they are much more independent and can walk to school and back and I am comfortable they are safe here if a meeting runs over. I have so much more time and if I do ever fancy growing veg again there are allotments just down the road !"
The testimonial of
Maunagh Frankcom
Development – Wharfedale Park, Otley
"So on Friday afternoon I visited with a tenant who moved into her fabulous new build a year ago on Tuesday. Our tenant suffers with medical conditions including arthritis causing her pain on a regular basis, she manages this, works part time in a school and cares for her 6 year old son but was struggling to cope in a terraced house with steep stairs when I first met her over a year ago.
Meeting her on Friday she was visibly in a very different frame of mind. She now has THE most amazing Social Housing property I have ever seen with open plan living, high ceilings, light airy rooms, fancy bathroom suite, extra wide patio doors, views of Otley Chevin etc.
But most importantly to her the property is all on one level reducing the daily pain she experienced from going upstairs; it has an enclosed garden so when she isn't well enough to do much her son has space to go outside and play safely. This in turn has had a massive effect on her mental and emotional health: in her words 'the property has changed her & her sons lives' (for the better). Just goes to show the impact good housing can have."
The testimonial of
Gareth and Janet Jones
Development – Wharfedale Park, Otley
"We went to look and liked the Mostyn House development but then heard about Wharfedale Park in Otley and thought it might suit us better – and it did. We knew we wanted a new house so we could devote all our time and energy on getting to know a new area, not doing up a project, but wanted more than a standard box.
We were impressed by the quality of the original buildings and how the builders have integrated the new build amongst them. The quality and finish is superb and some of the detailing in the new properties is lovely. This is not your usual mass house builder standard.
And they have not been too greedy, it is a spacious development. Properties are not crammed in. That may be down to the council's planners but the developers have to lead the conversation. The character of the old and the personality of the new build is very attractive."
The testimonial of
Angela Broekuizen
Development – Westwood Park, Beverley
"I remembered so clearly walking through the lovely archway as a young nurse and it was wonderful to walk through again and see the original old buildings brought back to life.
I like the finish and the attention to detail and the space.
Another big plus is the social side of life – I get to meet new people all the time as they move in and everyone is very sociable and friendly with a similar outlook. It feels very special, tucked away behind the archway, close to the town centre but still private.
Also I love the fact that I have a manageable sized garden now and that the grounds and front of the development are beautifully landscaped and maintained. It is such a joy to be able to walk into town or head over the Westwood in literally minutes.
While I may not need four bedrooms I like having the space and I love Westwood Park so much my plan is to stay here and downsize into an apartment when this house gets too big."
The testimonial of
Clementine Allen
Development – The Residence, Lancaster
"My husband died 21 years ago so I am used to living alone but the house got too big. Being involved in the Civic Society I had seen the plans come in for Lancaster Moor and was fascinated. I knew the building from attending local hospital trust meetings there and I knew that the developers were well respected.
I came to look at the show apartments and was very impressed by the space and the build quality. The sales team from PJ Livesey were all lovely. Not pushy just really helpful.
I've not missed my old house once – isn't that odd? The time was obviously right and I know I made the right decision because I already feel settled here. My apartment has high ceilings, lovely windows, and a private terrace which means there is no gardening necessary. With the layout being all on one level there are no stairs to have to contend with in the future."
The testimonial of
Hazel
Development – The Residence, York
"I write to say how very pleased we are with our apartment. The very few snags we had were dealt with courteously and promptly by your staff.
We consider that you have done an extraordinary transformation of the Terry's building and this is endorsed by our friends who visit.
Also I would like to add how delightful and helpful your staff have been in the sales office of the Residence.
Thank you again for restoring this beautiful building and its surrounding area."