pLANS FOR PORTSMOUTH
redevelopment of the former St. James Hospital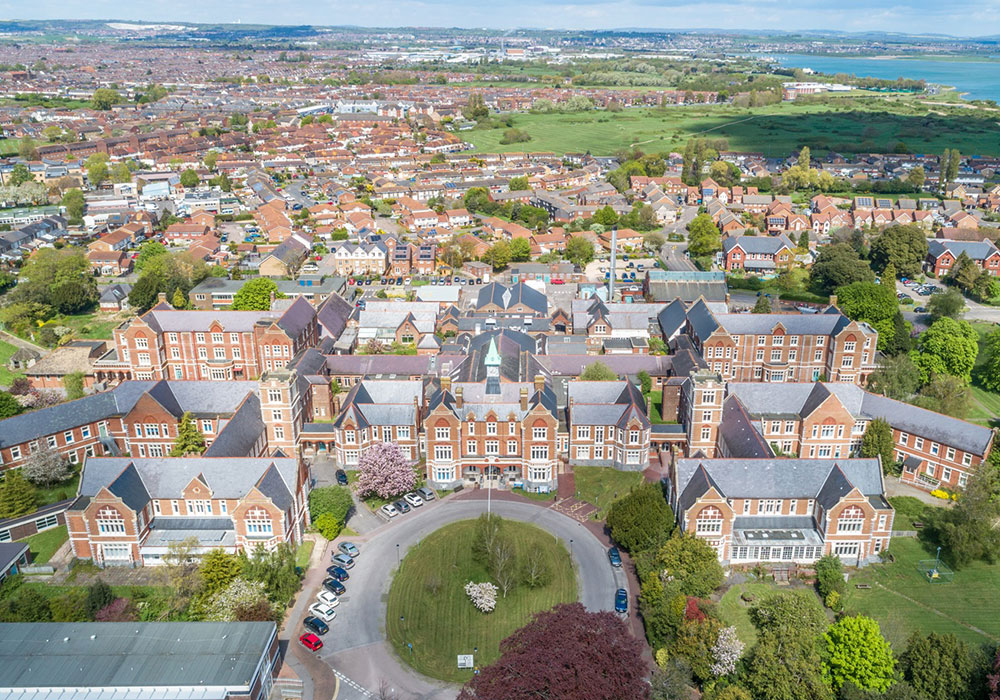 ABOUT
ST JAMES PORTSMOUTH
The architecturally extravagant buildings of St James' Hospital have been part of the Portsmouth landscape since 1879.
Built originally as an asylum they were requisitioned for military use during the first World War and when the National Health Service was formed in 1948 became part of its estate.
Health services at St James' have gradually been replaced by modern provision elsewhere in the city and in 2019 the hospital finally closed its doors.
The priority now is to deliver a sustainable future for the Grade II listed buildings and the wider 25-acre estate so they remain a part of Portsmouth's character.
After an intensive process the PJ Livesey Group was selected for the task and we have since spent a long time talking to heritage experts, consulting directly with the local community, local planners and simply walking the site.
Buildings like St James' are complex. It has a footprint of 16,000sq m that has been added to and changed over the decades but we are confident it can be divided and converted to create a series of unique homes.
You can find examples of our experience and skill in doing this elsewhere on the website.
OUR PLANS
WE'D LIKE TO HEAR FROM YOU
After much time at the drawing board we submitted detailed proposals to the City Council at the end of February.
The original St James' buildings would be converted to 146 properties, the majority apartments of varying sizes, but some sections would be vertically split to create three and four bedroom homes.
In addition, and to help fund this hugely complicated conversion, we would like to build a mix of housing strategically placed around the site to respect the original buildings and protect existing mature trees.
There would also be 25 'affordable' properties that will include 18 apartments.
Our plans would also bring new footpaths and informal trails through the parkland, childrens' play areas, a courtyard kitchen garden, new planting and landscaping and a substantial amount of discreet parking for residents.
The Grade II listed chapel would be protected and we would love for it to be found a community use.
The Cricket Field and pavilion would be unaffected.
We believe our ideas not only provide a long-term solution for the buildings of St James' but will create a unique addition to the City's residential offer, allowing people who need more space to stay in the Milton area, for others to downsize to an apartment or to get onto the property ladder.
We are keen to hear what people think and happy to answer specific questions.
Design & Access Statement
KEEP UPDATED
FOLLOW THIS SECTION FOR THE LATEST ON THIS DEVELOPMENT
19/03/21 - DEVELOPMENT INFO-GRAPHIC DOWNLOAD
Our new plans for St James include more than 100 new trees, new walking paths and a dedicated cycling route opening the site up to everyone. We have reduced the number of new build houses and will convert the historic buildings into unique homes that preserve this Portsmouth legacy. The development would also bring around £3m to Portsmouth City Council in a legal Section 106 agreement.
We have created an easy info graphic covering all the main points of the proposal that can be seen here and is available to download:
HERE >
22/12/20 - REVISED PLANS SUBMITTED
We have spent the year consulting with the local council, a range of interest groups and Historic England, on our proposals for the St James Hospital site.
With complex projects like this we want to ensure we create the right solution for everyone.
Good sized family homes to fulfil a need within the area, smaller homes to accommodate first time buyers, saving the historic listed buildings and helping to meet the local authority housing targets.
Purchasing the buildings when planning is agreed will also deliver a significant payment to the NHS which currently has to maintain and secure the St James site at a cost of more than £1.6m a year – money which could be used elsewhere within the service.
After much hard work and many conversations, we will now be submitting much improved plans for the site.
These have now been lodged with the City Council and you can view them HERE >
We will be having further discussions and consultations in the New Year but in the meantime if you have any questions please do send then through this page.
24/03/20 - PLANNING OBLIGATIONS
The scheme has the potential to provide more than £3m in planning obligation payments which are then used by City Council to support different projects.
• Monies towards the management of Milton Common to the north of the site, a much-loved open space already that would also be used by new residents of St James – Milton Common – https://www.portsmouth.gov.uk/ext/documents-external/pln-miltoncommon-lnr-framework.pdf
• Monies to mitigate potential impact of increased recreational use from the residents of the development on the Solent Special Protection Area. Solent Special Protection Area – https://www.portsmouth.gov.uk/ext/development-and-planning/planning-policy/solent-special-protection-areas
• There are currently significant concerns about the input of nitrates into the Solent Maritime Special Area of Conservation and the City Council are currently considering mitigation measures. It is likely that the scheme will have to pay a financial contribution towards this.
20/03/20 - AFFORDABLE HOUSING
The proposals would deliver a wide range of new homes at St James significantly adding to the mix of properties available in the local neighbourhood.
These homes would be accessible to buyers at all stages of their lives.
The proposals are for 84 new build homes in the grounds – 25 of which would be 'affordable' which equates to 30% of the total in line with Portsmouth's planning policy.
These would be for rent or shared ownership through a housing association and would include 18 apartments.
The listed buildings would be converted to create 146 apartments and houses set around landscaped courtyards with spacious communal entrances.
On projects like St James, which will involve complex and costly restoration it is common practice to exclude the listed buildings from the 'affordable homes' calculation as costs are harder to calculate.
There are also practical and logistical issues when trying to provide 'affordable homes' within historic conversion projects as in our 40 years' experience of doing such projects, housing associations are often reluctant take on properties such as this because of the individual nature of the buildings.
Instead extra contributions are made by the developer through planning obligations.
16/03/20 - CAR PARKING
The existing hospital site already has 337 car parking spaces.
The proposals include an additional 148 spaces – but importantly 23 of these would be purely for visitors and 31 would be for the Cricket Club, which is an important community facility.
We could consider reducing the amount of car parking but a large number of people expressed strong concerns at both of our Public Consultation events that insufficient onsite parking would lead to further parking on surrounding roads which is already an issue for residents.
It is always a balance, but we believe the parking levels proposed are at the right number to meet both the needs of future residents and ensure that parking does not overspill onto the streets within and off site.
11/03/20 - GREEN SPACE
This lovely mature site extends to a total of 25.3 acres. Of this area a total of 12.9 acres is currently taken up by existing buildings, both listed and newer additions, and hardstanding – that is 51%.
The proposals involve demolition of these newer additions and would see a total of 10.8acres of the site developed with buildings and hardstanding – that is 44.5%
So in fact our plans would see an INCREASE in green space with two more acres of land available.
Perhaps more importantly this green space will be well managed in perpetuity with the costs of looking after it covered by new residents paying a management fee. The money collected will be significantly more than the funds the NHS has been able to provide for on-going landscape management in recent years.
Be reassured the site will not be a gated community and local residents and visitors will be able to access the wider grounds freely.
08/03/20 - FENCING AND TREES
Heras fencing has recently been erected around the buildings as a safety precaution while some decommissioning work to remove asbestos from small areas of the building is carried out by NHS Property Services.
It is not a sign that any building work has been started by PJ Livesey.
We have a full inventory of all trees on the site and no Grade A specimens will be lost under our plans. While some more minor trees will be felled a large number of new ones will be planted and for the first time there will be proactive management of trees which will improve the estate.
Several trees on a neighbouring site have recently been tagged by NHS property Services but are not part of this planning application.
St. James Hospital
ST. JAMES HOSPITAL, PORTSMOUTH, POA 8LD
T: 0800 151 0960
E: info@pjlivesey.co.uk
We want to hear what you think
We're happy to answer specific questions if we can – submit your query